Lisbon and Porto are the two largest cities in Portugal. Many tourists choose to visit them "in one go," devoting a few days to Lisbon and a few to Porto. Is this a difficult task? No. Every day the route from Lisbon to Porto is covered by 18 trains, a dozen buses and nearly two dozen planes. Below about the best way to get from Lisbon to Porto.
How to get from Lisbon to Porto by train?
Travel time: about 3 hours.
Cost on average 25 euros. Promotional even 8 euros.
The easiest way to transfer from Lisbon to Porto is to take the train. Lisbon's Alfa Pendular (fast) and Intercidades trains depart from Lisboa Oriente station, and you'll reach Porto – Campanha station. Some of them head to Braga (but stop in Porto), and for the rest Porto is the terminus station. Porto – Campanha train station is very well connected to the city center as well as Porto airport.
Tickets for second class on the Alfa Pendular train cost between 25 Euros and 30 Euros, depending on when you buy them. Intercidades trains are cheaper, costing between 20 Euros and 25 Euros. If you buy your ticket in advance, the cost can be up to twice as low. You can buy tickets on the Comboios Portugal website – cp.pt, their purchase and the ability to check the schedule activates about two months before the date of travel. It is possible to get a discount if you are under 26 (25%) or over 65 (50%).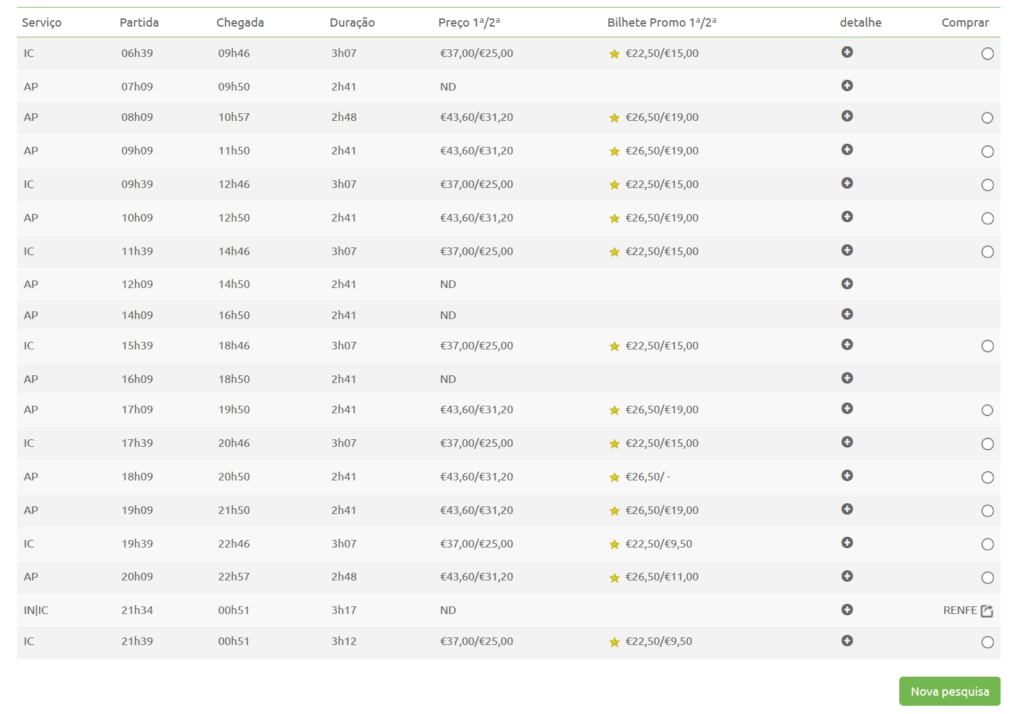 How to get from Lisbon to Porto by bus?
Travel time: about 4 hours.
Cost: ~20 euros. Promotional up to 10 euros.
The most popular form of travel from Lisbon to Porto is by bus. Travelers choose it mainly because of the lower fixed price. Buses leave more often than trains, so if you are planning an overnight trip – after 10 pm you will leave Lisbon only by this means of transport.
As of mid-2019, connections between Lisbon and Porto began to be operated by Flixbus. At the moment, travel on it is the cheapest. The distinctive green buses depart from Lisbon Oriente station twice a day and arrive at the Garagem Atlântico in Porto (next to the São Bento train station, near city center). On average, a bus ticket from Lisbon to Porto costs 15 – 20 euros. You can buy tickets here.
The other carrier that offers connections between Lisbon and Porto is Rede Expressos. All buses start from the bus station at Sete Rios. However, almost every one stops at Lisboa Oriente station, and that's where I recommend getting on – you'll save yourself a trip around the city. Some of the buses also go through Fatima – if you plan to go to Fatima, I recommend reserving about 2-3 hours for sightseeing. You can buy tickets on the website about two months before you plan to travel, or at a window at the bus station. The latter solution, however, I do not recommend – the connection to Porto is very popular. If the bus connections are not displayed – you should wait a few more days, most often the schedule is scheduled to change.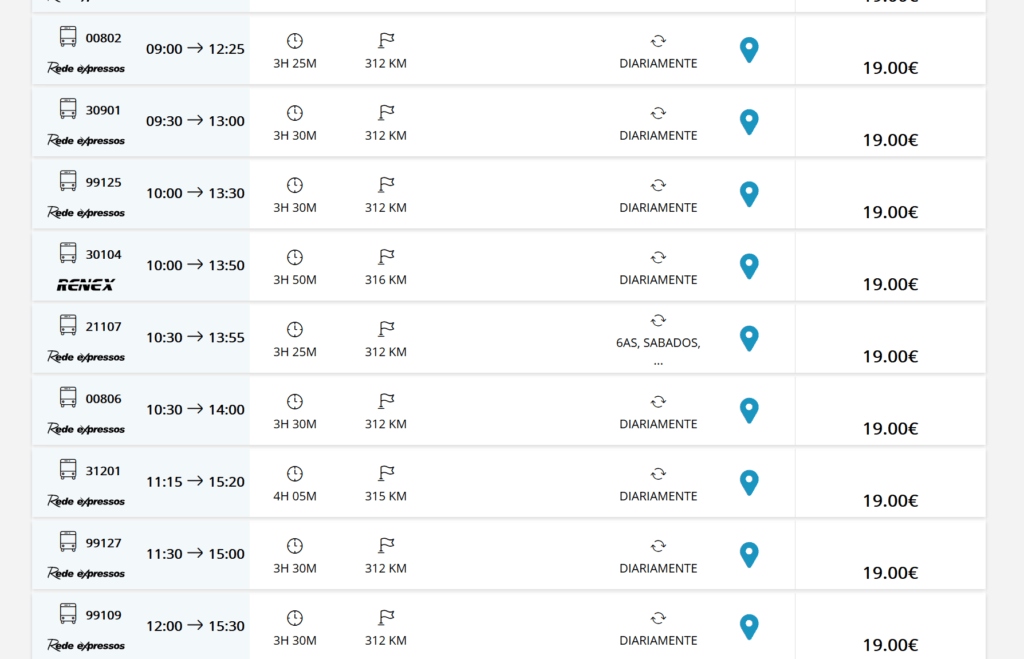 How to fly from Lisbon to Porto?
Travel time: about an hour.
Cost: on average 30 euros (Ryanair) and 60 euros (TAP). Promotional 9.99 – 15 euros.
There are two airlines flying between Lisbon and Porto, Irish Ryanair and Portuguese TAP. If you plan your departure in advance, plus your vacation date does not coincide with any vacation period and you can arrive at the airport before seven o'clock, flying is the cheapest and fastest option.
Ryanair very often sells tickets to fly from Lisbon to Porto for 10 – 15 euros. Departure is 6 days a week (except Saturday) a moment before eight o'clock. The planes depart from Lisbon airport terminal two (you'll get there from terminal one by free shuttle – the stop is right next to the airport exit).
TAP is a more expensive, but more convenient option. TAP boings depart from terminal one, and the usual flight between Lisbon and Porto costs 40 to 150 euros for second class, depending on what time you want to leave. Each day, 13 TAP planes depart from Humberto Delgago Airport in the direction of Porto.
How to get from Lisbon to Porto by car?
Time: about 3 hours by highway.
Cost: 20 euros.
You can also get from Lisbon to Porto by car. Selecting the A1 highway (it leads all the way to the Spanish border) will cost us about 20 – 22 euros. You can pay electronically – if you rent a car equipped with via toll or at the "gate" – by card or cash. The highway leads through Leiria, Coimbra and Aveiro and in each of these cities I recommend making small stops.