This is one of those articles you should read before coming to Portugal, especially if you want to avoid unnecessary stress along the way, avoiding the many toll highways or simply being fined for not paying a toll of 10 times the distance you traveled. You will also find information on what you need to do before entering Portugal with your own car.
Portugal has one of the most developed highway networks in Europe. However, many of them do not have a manual toll system, and those where we can pay often accept only Portuguese cards or cash. If we have the option – I recommend renting a car with an active Via Verde system.
Rental car and highways in Portugal
When renting a car from a rental company, we have two options: rent a car with a Via Verde transmitter already installed, or pay tolls regulated at the gates and at the CTT postal bank. Unfortunately, in Portugal it is not possible to purchase a vignette with which we will pay the tolls in advance, there is a purely electronic system based on transmitter, registration or (for visitors) prepaid cards.
Via Verde tolling system
The Via Verde (Green Road) electronic tolling system was introduced in Portugal in 2011. A transmitter is mounted in the glove compartment or next to the car's mirror – depending on the model, it is either silent or every time we drive through the "gates" it emits a characteristic sound – a beep, which marks the entrance to the toll section of the highway. Via Verde allows us to drive through gates marked with a large green letter V on highways, so it effectively avoids traffic jams on bridges or city access roads – there is no need to pay by card or cash at the ticket office. However, some sections in Portugal only have an electronic toll system (!), so we have to somehow pay the toll either via Via Verde or at the CTT.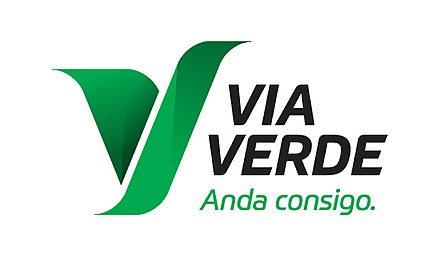 Renting a car from Via Verde in network rental companies is often an additional fee – the cost, however, should close in a maximum of 10 – 15 euros for a 7-day stay. Settlement of highway trips by the rental companies usually takes place within 2-3 weeks after returning the car – depending on the form of contract we sign – charging the card or on the basis of deposit settlement.
Self-pay highway tolls in Portugal
Some of Portugal's expressways also have regular manual toll stations. Most often we will pay at them by cash or card (but they will not always accept Polish/European cards). However, if the possibility to pay at the point is not there, we will have to pay the toll electronically.
However, renting the Via Verde system is not an obligation. In addition to the Green Road, we can also pay for highway trips at a branch of the Portuguese Postal Bank (CTT) with a distinctive postal worker and horse in the logo, or at stores with the Payshop sign on the door. And how does it work?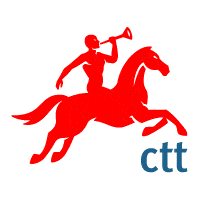 After a maximum of five days after crossing the highway, you are required to go to the nearest bank and pay the toll. You select the appropriate window, enter your car registration number and pay the toll. Unfortunately, the tolls are usually not updated in real time, but the next day after crossing the gates.
For example: You drive from Porto to Lisbon on Wednesday and from Lisbon to Albufeira on Thursday morning, stopping for lunch on the way and want to pay at the bank for the gate passes. The bank clerk will only give you a bill for the trip from Porto to Lisbon, as today's ones will not be visible in the system. I personally recommend paying the tolls every 3 days.
The biggest downside of this option is the fee when leaving Portugal. If you use toll roads on the day of departure, you often won't be able to pay the bank. You will most likely end up being charged by the rental company with an additional fee or fine.
Entering Portugal in a car with foreign plates
If you enter Portugal with your car, registration is required just after crossing the border. However, unlike a rented car, there are definitely more payment options. Personally, I recommend renting a Via Verde – it allows us to use any highway without additional fees, as well as to use the Via Verde lane.
EasyToll – automatic toll collection
EasyToll is a system that creates a link between your credit card and your car registration. EasyToll registration is valid for 30 days, after which time you can do it again. You can also cancel the EasyToll system at any time – you can do so at portugaltolls.com or by phone: 00 351 212 879 555.
Each time you cross the gates, a toll will be blocked on your credit card (plus a €0.32 administrative fee). Please note, the EasyToll system works in places where only electronic payment is available. If you see gates on the highway you CANNOT bypass them and must pay the toll right there.
To purchase EasyToll you must cross the Portuguese border at one of four points, these are: road A28, at Viana do Castelo, 3.5 km from the border at Chaves/Verin; road A25 at Alto de Leomil (Vilar Formoso); road A22 at Castro Marim/Ayamonte. Below is also a map of EasyToll points, the points where we can register are marked with a green card symbol on wheels.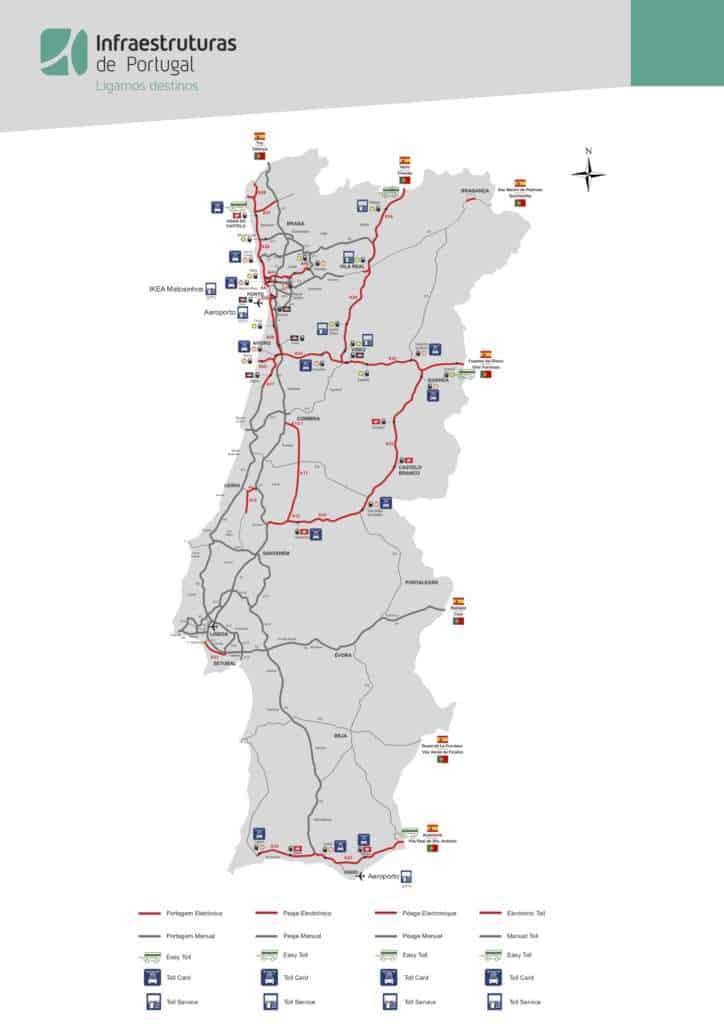 A few kilometers after crossing the border you will see a blue sign with a credit card sign, you need to go down to the service point and enter your card at the EasyToll terminal. As a confirmation, you will receive a bill for EasyToll registration – 0.74 euros, along with the expiration date. After registration, you can drive on roads with electronic toll collection without restrictions.
TollCard – Prepaid card
You can purchase a TollCard prepaid card (with a value of 5, 10, 20 or 40 euros) at any branch of a postal bank (CTT), at MOPs or online at tollcard.pt. To activate it, you need your car registration number and phone number each time. You can activate multiple cards to a single registration number, and you can check the current balance online at tollcard.pt. You will also receive an SMS notification when the balance approaches zero. The funds on the card are valid for one year and are non-refundable.
The principle of the prepaid card is identical to the Easy Toll system. The prepaid card allows you to enter any highway with electronic toll collection, if there are gates – you have to pay an additional fee at them.
TollService – prepaid card
In my opinion, TollService is only interesting if you intend to cross all of Portugal in a few days. The TollService option is divided into two:
A card with an unlimited number of highway trips for 3 days – cost of 20 euros and 0.74 cents administrative fee.
A card for a specific date and a specific trip – e.g. Spain – Porto airport, priced according to the section we want to travel.
We can purchase the TollService card only at MOP Cepsa in Viana dos Castelo (A28), MOP at Abrantes (A23) and Olhao (A22), at Porto airport, at any of the postal banks (CTT), and online at tollcard.pt.
Rental Via Verde
Via Verde is an electronic transmitter that will allow us to drive through any of the toll stations in Portugal – both electronic and manual. Via Verde also means no traffic jams – we can drive in a dedicated lane marked with a green V every time.
Renting Via Verde Visitors costs 6 euros for the first week and 1.5 euros for each subsequent week. When you rent a Via Verde you must also pay a deposit of 27.50 Euros, the deposit is refunded when you return the unit. Unfortunately, Via Verde points are not available when you enter Portugal, so if you are planning a longer stay in the country of traffic jams it makes the most sense to buy EasyToll first, cancel your membership when you get to the city, and then buy Via Verde at one of the stores.
Map with highways in Portugal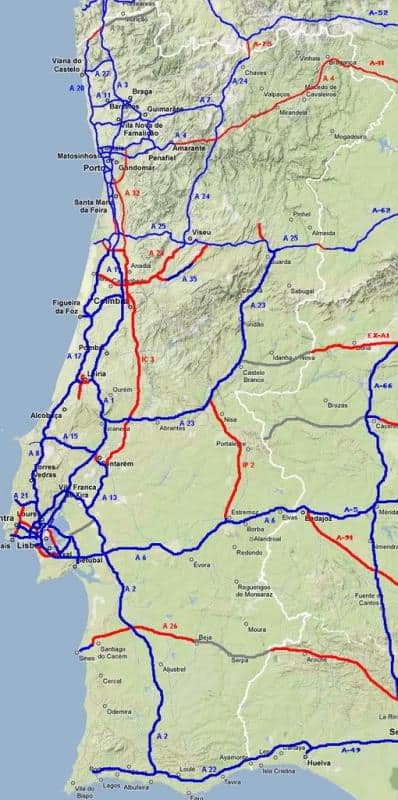 Prices for highway travel in Portugal
It should be mentioned that the highways in Portugal are, in the opinion of the Portuguese, quite expensive – it is often many times cheaper to take a plane from Lisbon to Porto than to go there by car. However, if we compare Portugal with Western European countries, it is somewhere in the middle of the pile. Freeway prices vary depending on the class of car – respectively, for example, motorcycles, cars like Renault Clio or Peugeot 208 are class one – the cheapest, class two is Renault Kadjar or Peugeot 4007 and respectively higher = more expensive. The prices listed below are for Class 1.
Lizbona – Fatima – 8,15 Euro
Lizbona – Porto – 22,20 Euro
Lizbona – Coimbra – 14,90 Euro
Lizbona – Sintra – 1,05 Euro
Lizbona – Cascais – 2,10 Euro
Lizbona – Evora – 9,35 Euro
Lizbona – Lagos – 24,80 Euro
Porto – Fatima – 14,05 Euro
Porto – Coimbra – 7,30 Euro
Porto – Lagos – 47,90 Euro
Porto – Aveiro – 6,45 Euro
Faro – Lagos – 5,20 Euro
Faro – Albufeira – 1,55 Euro
Crossing the Vasco da Gama Bridge in Lisbon – 2.70 euros (toll only for entering Lisbon)
Crossing the April 25 bridge in Lisbon – 1.50 Euros (toll only for entering Lisbon)
Prices for other directions, along with a different class of car, can be easily recalculated at estradas.pt. The map at the top shows the numbers under which to look for a particular connection. Keep in mind that the listings include specific highway exits, not major cities.
General information
Every car in Portugal must carry a reflective vest and a warning triangle. It is not mandatory to carry a first aid kit or fire extinguisher. Lights are mandatory at night and during the day in case of bad weather conditions. We also turn on dipped headlights when driving through the tunnel.
The legal blood alcohol level is 0.5 per mille, and children under the age of 12 or up to 150 cm must be compulsorily carried in a child seat.
Speed limits in Portugal
In built-up areas, the speed limit is 50 km/h. Outside built-up areas, the limit for cars is 90 km/h, for trucks 80 km/h, and for cars with trailers 70 km/h.
On expressways, the maximum speed for cars is 100 km/h, for trucks and vehicles with trailers 80 km/h. On the highway in Portugal, you can drive at a maximum speed of 120 km/h driving a passenger car, trucks can go a maximum of 90 km/h, and vehicles with trailers can go 100 km/h.